The White Mountain Volunteer Examiner (VE) Team provides regularly scheduled amateur radio license testing. Upcoming test session dates and location are shown on the Calendar. All test sessions begin at 9:00am. Click here for more information.
Please note the following:
You must have an FCC Registration Number (FRN) to test and become licensed. Watch this video for assistance: https://youtu.be/7a4doKEPN5M
You must bring with you the following:

Two forms of ID, including at least one government-issued photo ID, such as a driver's license
Your FCC-issued FRN number
A valid email address
A copy of your current license if you are upgrading
A copy of any past exam element credit (CSCE)
The current question pool for the license you are seeking is:
– Technician: 1 July 2022 – 30 June 2026
– General: 1 July 2023 – 30 June 2027
– Extra: 1 July 2020 – 30 June 2024
Email us at: [email protected] to pre-register for a test. Include your name (the name used to create your FRN), license call if you have one, and the license exam you wish to take. An acknowledgement will be emailed back to you. If you are part of a class or study group and your group can't make our scheduled test sessions, contact us with your request at the email address above.
---
Technician License Review
The Kachina Amateur Radio Club sponsors a free two-day class to assist those interested in passing the Technician class FCC license exam. The class is conducted on the weekend prior to each test session. The Saturday session will be from 8am to noon, and the Sunday session from 12 noon to 4pm. The location for these review sessions is shown on the Calendar.
To participate in these sessions, please contact Doug, NQ5G at 928-532-7438. If there's no answer, please leave a message with your name, phone number, and email. What a great opportunity to get started in HAM RADIO!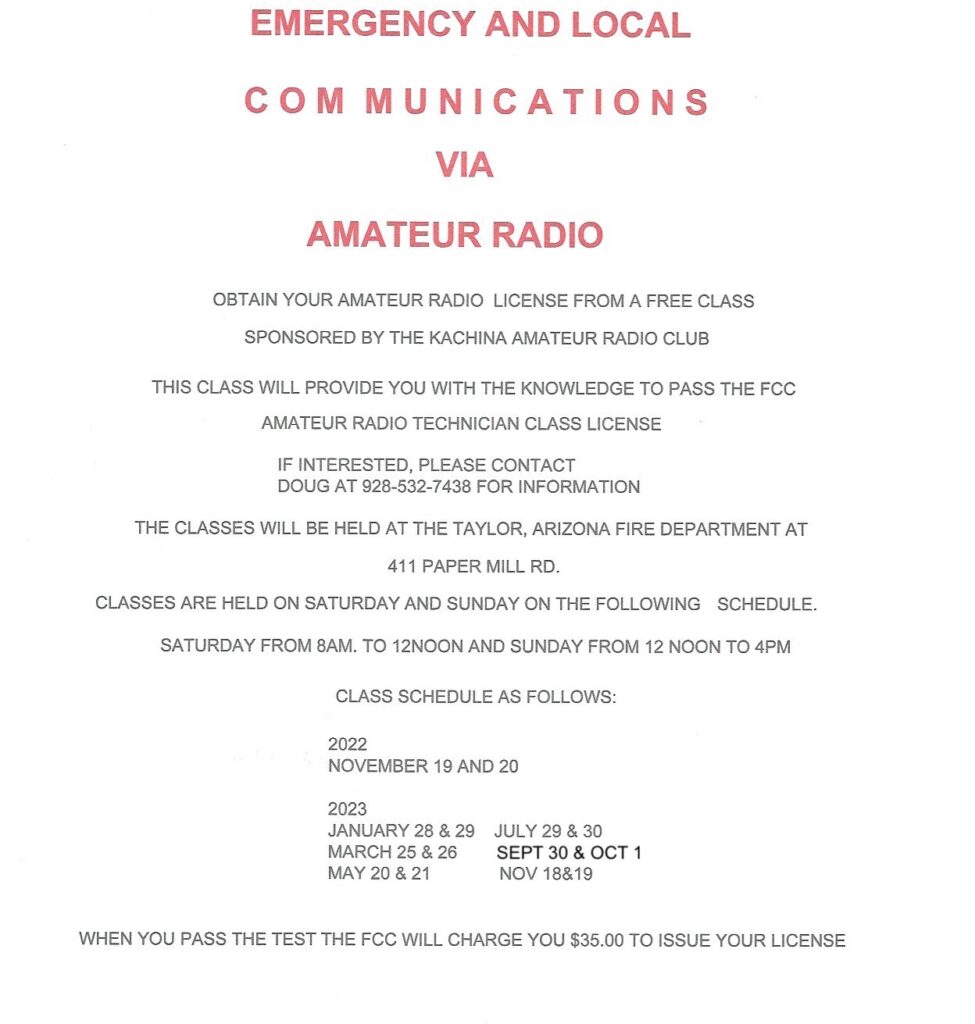 ---
Technician and General Classes
Mike Abernathy, NM3S, is offering Technician and General license classes. Information on dates, times, location, and books is available at this link. For additional information, contact Mike at [email protected]
---
Technician License Videos
Marc, N9WIB has made available a set of videos explaining the Technician License requirements. There are 20 presentations covering all the topics related to getting your initial ham radio license and all are posted on YouTube. This content is free and open to all amateur radio clubs to use as an educational tool. Web site: https://radiosignals.org (Click on the YouTube link on the site.)